Recipe: Crispy Oven Baked Pickerel with Greek Yogurt Tartar Sauce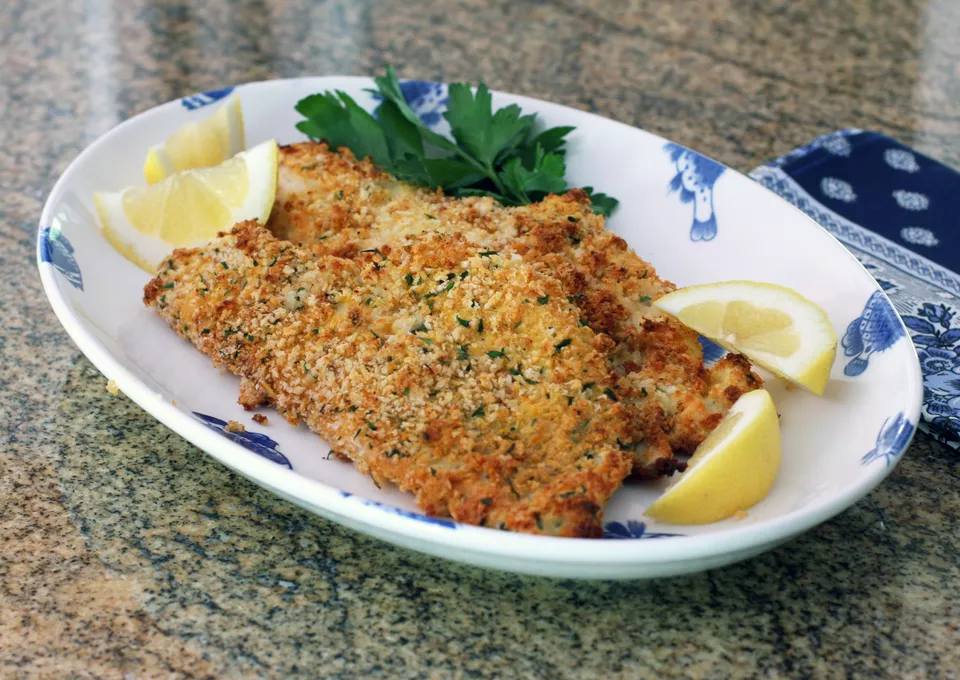 Photo Source: TheSpruceEats.com
Friday was always fish night in my house growing up, and this recipe for crispy baked pickerel from Homegrown: Celebrating the Canadian Foods We Grow, Raise and Produce presses all the right nostalgia buttons. It also makes me excited for summer fishing trips and whipping up a fresh fry right on shore.
This recipe was contributed to Homegrown by Anna Shier, PHEc, RD. It's a healthier take on her mother's recipe they made together when she was growing up.
Pair with Malivoire's 2017 Vivant Rosé or Rosewood's 2015 Origin Riesling, from your Spring 2018 ClubK and Discovery Pack.
INGREDIENTS
Tartar Sauce
(Makes 1 cup)
1/2 C (125 mL) 0% fat Greek Yogurt
1 tbsp (15 mL) low fat mayonnaise
2 tbsp (30 mL) relish (dill or sweet) OR low sodium dill pickles, diced
1/2 tbsp (7 mL) finely chopped red onion
1 large garlic clove, crushed
Pepper, to taste
Baked Pickerel
1 omega-3 egg
1/2 C (125 mL) 100% whole wheat Panko crumbs
1/4 C (60 mL) finely shredded Canadian Parmesan cheese
2 tbsp (30 mL) minced fresh parsley
1 tsp (5 mL) garlic powder
1 tsp (5 mL) paprika
1/4 tsp (1 mL) iodized salt
1/4 tsp (1 mL) freshly ground black pepper
1 lb (456 g) boneless pickerel fillet, cut into 4 equal pieces
INSTRUCTIONS
1. To make the tartar sauce, combine yogurt, may, relish (or dill pickles, if using), onion, garlic and pepper in a medium bowl. Cover and store in the refrigerator until ready to use, or up to 1 day in advance.
2. Preheat oven to 450°F (230°C). Line a large rimmed baking sheet with parchment paper.
3. Lightly beat the egg in a bowl and set aside. Ina separate bowl, combine bread crumbs, cheese, parsley, garlic powder, paprika, sale and ground pepper.
4. Dip each piece of fish into the egg mixture and then into the bread crumb mixture, making sure both sides are coated. Place on the prepared pan.
5. Bake for 7 to 10 minutes or until fish flakes when prodded with a fork. Do not overcook. Serve each piece with 1/4 cup (60 ML) of tartar sauce.
---
This recipe from Homegrown: Celebrating the Canadian Foods We Grow, Raise and Produce (Whitecap, 2015), by Mairlyn Smith with recipes contributed by the Ontario Home Economics Association, has been reproduced with permission from the publisher.